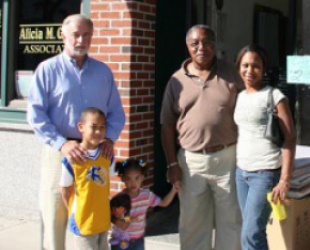 Born and raised on Long Island, Tim Bishop has spent a lifetime working for middle-class families. Tim led Southampton College for 29 years, dedicating his career to making college affordable and increasing opportunities for students. In 2002, Tim made his first-ever run for office and was elected to represent New York's 1st Congressional District.
During his time in Congress, Tim has worked tirelessly for the middle class, improving access to higher education, defending retirement security for America's seniors, protecting the environment and providing excellent constituent services.
Tim has a long record of protecting good-paying middle-class jobs. When Republicans in Congress tried to cut funding for Brookhaven National Laboratory, Tim fought back and won, saving 1,000 jobs in the process. And when the Federal Aviation Administration proposed moving their facilities off Long Island, Tim convinced them to build a new facility on Long Island instead—saving 950 jobs and creating hundreds of new construction jobs.
As a senior member of the House Transportation and Infrastructure Committee, Tim has worked with members of both parties to invest in Long Island infrastructure. He was an author of the bipartisan Water Resources Reform and Development Act that secured millions in federal funding for Suffolk County's beaches, harbors and waterways and promotes Long Island's competitiveness and economic growth. Not only does this legislation protect homes and business from future disasters, but it will also create thousands of jobs.
Tim has secured over $1 billion in direct federal investment to Long Island, creating jobs and expanding the economy. These investments increased funding for high-tech research at Brookhaven National Laboratory, while also creating over 1,000 construction jobs.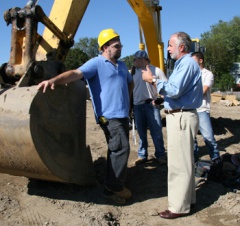 Tim is one of the strongest advocates in Congress for college access and affordability, and he helped write key provisions of laws to help millions of students and families pay for college. He wrote the bipartisan College Cost Reduction Act that funded the single largest investment in student financial aid since the 1944 GI Bill and is helping middle-class families send their kids to college.
Tim has helped thousands of Long Islanders cut through the federal bureaucracy to access the Social Security, Medicare, and other benefits they deserve. Standing up for Suffolk County's veterans is also a top priority for Tim. He has recovered over $2 million in overdue compensation for local veterans and worked to improve access to high-quality healthcare, reduce wait times and provide $5 billion to recruit more doctors, nurses and other medical professional for our returning veterans.
Congressman Bishop graduated from Southampton High School and holds a BA in History from Holy Cross College in Worcester, Massachusetts and a Masters Degree in Public Administration from Long Island University. He and his wife Kathryn, founder and director of The Children's School for early childhood development, have two daughters, Molly and Meghan, and the family welcomed their first grandchild, Nathan, in 2010.